See Previous
Beijing Design Week
Instituto Cervantes de Pekín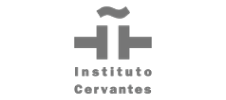 Customer:
Cervantes Institute
Service:
Exhibition Organization
Date:
May 2014
Location:
Madrid and Beijing
The highlights:
Congratulations from artists José Manuel Ballester and Miao Xiaochun confirmed that the work done was a success.
Introduction:
The Instituto Cervantes in Beijing was in charge of organizing an art exhibition about the famous triptych of El Bosco, The Garden of Delights.
Services and execution:
A bilingual beautiful 15 x 15 art catalogue. Made of high quality coated paper with an outstanding jacket.
The digital invitation was designed so that at the opening there would be no room for a single soul (and it wasn't).
Large format poster with details of The Garden of Delights.
Five types of explanatory posters in DIN A-4 format that served as a guide for the visitors.
Pre-cut vinyl for the walls and glass doors.